Effective people management or from a "carrot and stick" to a coaching style leadership
Imagine one of your junior people comes into your office for advice: "I have a problem in this file, what shall I do?" What happens if, instead of telling him/her what to do, you ask "Well, what do you think?"
Precisely, coaching is about resisting to telling what to do and how to do it. Instead you ask your people for their opinion and approach and you help and support them in developing the solution themselves.
In other words, the essence of coaching is about:
building responsibility,
autonomy – helping find a solution alone,
guiding through the other person's thinking process,
helping improve without prescription.
See your collaborators as persons on their way to get better and better. Your are their support. You become the catalyst of their performance improvement. Your job is to help the person become not only more competent but also more confident. In building up the self-confidence of your people they will become more responsible.
For this to work you have first to build a trust relationship. Trust is the most important ingredient. If your subordinate doesn't trust you, you can't coach him or her. Make the conversations confidential and do not disclose to others what you discuss.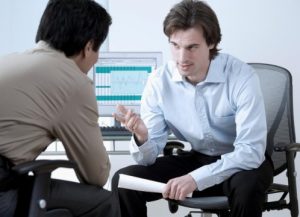 These are the keys to coaching people management style:
Regular one-to-one meetings
Take some time and organise regular (short) one-to-one meetings. You will have better results if you coach your people regularly. Short really means short: 5 to 10 minutes to the point discussions will be sufficient.
Give them your full attention
Listen and ask insightful questions (mostly open ones)
Give honest feedback
Be tough and demanding with the task and friendly with the person
Here a concrete example of questions you could use to structure the discussion with one of your people:
We have 10 minutes to discuss the file XY, what outcome would you like to achieve in this time?
What is the situation? What have you done so far? What is your analysis? What strategy have you applied so far? What are the challenges?
What options do you have/see?
What are the pros and cons of these options?
What approach/actions/strategies have you (or others) successfully used in similar circumstances?
How exactly can I be of help to you?
What precisely are the next steps you will undertake? What support do you need?
What else?
Always make sure you have a clear commitment to action at the end of the discussion.
Incorporating a coaching style leadership is a powerful way to develop your team and ultimately to improve performance. The use of a coaching style has also been shown to have a very positive impact on your company or law firm culture. This means that people feel more listened to, respected, empowered, valued, more confident and free to come up with new ideas. A true leader will have impact because he/she will make his/her people and the team see what they can become rather than what they are today. – The competence to coach your people becomes as a result increasingly a competitive advantage.
Why not test with a junior person of your team a coaching style discussion today?